This Buttermilk Pie recipe is a classic dessert that's easy to make with simple ingredients!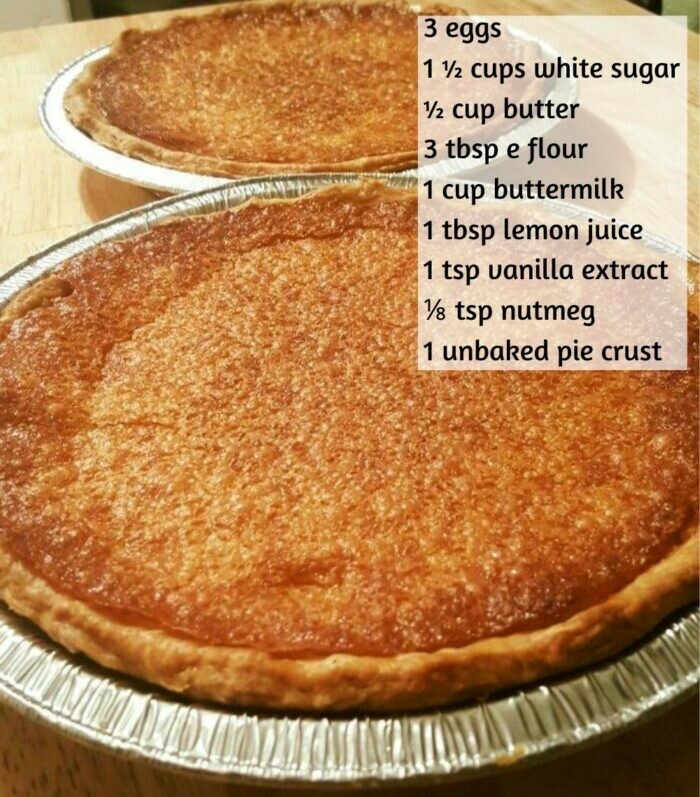 Buttermilk Pie is an old-fashioned Southern favorite. You don't have to like buttermilk to like this great tasting custard like dessert. It is great for the holidays or just any time and so easy to make. You can't go wrong with this pie and I have never served it to anyone who didn't like it.
This is an old-fashioned, easy recipe your family will love. This pie is wonderful for any occasion or event and you won't bring any home. It keeps for several days in the refrigerator and is wonderful with coffee as a dessert or with milk for a snack.
Ingredients For 8 Servings
3 eggs
1 ½ cups white sugar
½ cup butter, softened
3 tablespoons all-purpose flour
1 cup buttermilk
1 tablespoon lemon juice
1 teaspoon vanilla extract
⅛ teaspoon freshly grated nutmeg
1 (9 inch) unbaked pie crust
How To Make Buttermilk Pie
Step 1: Preheat the oven to 350 degrees F (175 degrees C).
Step 2: Beat eggs until frothy. Add sugar, butter, and flour and beat until smooth.
Step 3: Stir in buttermilk, lemon juice, vanilla, and nutmeg. Pour into pie shell.
Step 4: Bake until center is firm, 40 to 60 minutes.
Step 5: Remove from the oven and cool for 1 hour before serving.
Tips
Author : ozelkadin.net